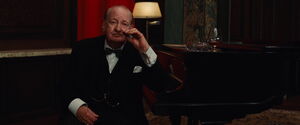 Sir Winston Leonard Spencer-Churchill (30 November 1874 – 24 January 1965), was a British politician who was the Prime Minister of the United Kingdom from 1940 to 1945 and again from 1951 to 1955. Widely regarded as one of the greatest wartime leaders of the 20th century, Churchill was also an officer in the British Army, a historian, a writer and an artist.
In Inglourious Basterds
Edit
Chapter Four - Operation Kino
Edit
Sir Winston Churchill has a cameo in the film, where he is seen at a piano in the room where General Ed Fenech is briefing Lt. Archie Hicox on Operation Kino.
Churchill's placement at the piano seems to be more of an introductory shot that him sitting there intentionally, as Churchill did not play the piano.
In all the scenes he appears, Churchill is seen smoking a cigar. Winston Churchill was well known for his love of cigars.
Behind the scenes
Edit
He was played by the British actor Rod Taylor.
Quentin Tarantino called Rod Taylor personally to offer him the role of Sir Winston Churchill. When Taylor learned the movie was going to be shot in Germany, he pointed out that Albert Finney lived across the pond in England and had played Churchill six or seven times. Tarantino replied, "If Rod Taylor turns me down, I'll call Albert Finney." Taylor accepted the part.
In preparation for playing Winston Churchill, Rod Taylor watched dozens of DVDs with footage of Churchill in order to get the Prime Minister's posture, body language, and voice, including a lisp, correct.
The ring worn by Rod Taylor in the film is sold on yourprops.
Community content is available under
CC-BY-SA
unless otherwise noted.