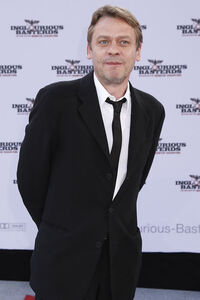 "This disgusting person was absolutely unpredictable, had many facets and used his power to do terrible things. As a demagogue, he was second to none as he could interact with people. So I learned my lines and went with fun at Tarantino's set and played my scenes."

―Sylvester Groth on his role[1]
Sylvester Groth (born 31 March 1958, in Jerichow, German Democratic Republic) is a German film actor and tenor.
He is the youngest of five siblings from Jerichow (Saxony-Anhalt) in the former German Democratic Republic, where he also spent his childhood. His family is from Upper Silesia. After the father died early, the mother married a second time. When he was 14 years old, the family moved to Leipzig, Germany. In 1986 he escaped from East Germany to West Germany.
Groth is best known for playing the Nazi Minister of Propaganda Joseph Goebbels twice, first in the 2007 German film Mein Führer – Die wirklich wahrste Wahrheit über Adolf Hitler, and then in Quentin Tarantino's 2009 film Inglourious Basterds.
Prior, his first major film role was in another WWII film Stalingrad (1993).
Groth also studied music and is also an educated tenor.
References
Edit
External links
Edit
Community content is available under
CC-BY-SA
unless otherwise noted.