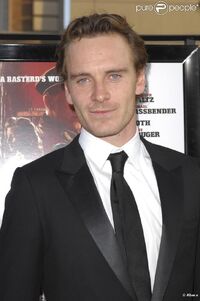 "When I was like 18, I got my friends together and we put on a stage version of Reservoir Dogs in my local nightclub, so to actually get to work with him was a dream come true. Once I got beyond that, it is fascinating to watch the man work because he does really works in his own, unique way. He [Quentin Tarantino] is so knowledgeable in film. He does his craft by absorbing all the information. He is an encyclopedia. He is just a dream to work with. He gives you a lot of information, outside of what is written, and his reference points are very precise and original. He told me that this guy, Hicox, is like a young George Sanders. All you have to do is listen to the man, and he gives you all the ammunition you need. So, I went out and watched all the Sanders films I could get my hands on.[1]"

―Michael Fassbender
Michael Fassbender (born 2 April 1977) is a German-Irish actor. He is best known for his roles as Lieutenant Archie Hicox in the 2009 film Inglourious Basterds, Magneto in the superhero films X-Men: First Class (2011), X-Men: Days of Future Past, X-Men: Apocalypse (2016) and X-Men: Dark Phoenix as well as the android David in the science fiction film Prometheus (2012) and Alien Covenant (2017).
In an interview with Top Gear, Michael Fassbender claims that to this day, passersby on the street address him by simply holding up "The German 3".
References
Edit
External links
Edit