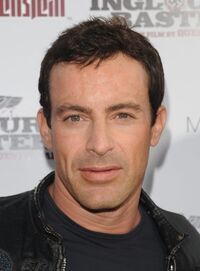 "He's a Basterd! One of 8 Jewish American, Nazi killing predator's, in a world gone awry. Especially for Jews! As far as his history goes, he was born in Austria, immigrated to America in the early 1920's, became American and was one of the first in line to go fight when the US entered the war. Aside from killing and mutilating, he also translates for Brad Pitt's character, Lt. Aldo Raine."

―Gedeon Burkhard about his character[1]
Gedeon Burkhard (born 3 July 1969) is a German film and television actor. Although he has appeared in numerous films and TV series in both Europe and the US, he is probably best recognized for his role as Alexander Brandtner in the Austrian/German television series Kommissar Rex (1997–2001), which has been aired on television in numerous countries around the world, or as Corporal Wilhelm Wicki in the 2009 film Inglourious Basterds. Since then he mostly starred in various European films and TV shows, and also appeared in the Italian version of "Dancing with the Stars".
References
Edit
External links
Edit