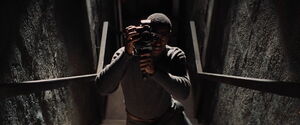 "Because Marcel, my sweet... we're going to make a film. Just for the Nazis."
The filmmaking equipment was a video and audio recording system, originally belonging to Ada Mimieux, used by Marcel to record Shosanna's message for the Nazis.
The system consists of a hand-held Bolex camera and a microphone with a stand. Despite being old, they still work well, though there's no mention if the device needed maintenance. Marcel recently tested the sound recorder on a guitarist he recorded in a café, and the quality of the recording was great.
In Inglourious Basterds
Edit
Chapter Three - GERMAN NIGHT IN PARIS
Edit
After Shosanna tells Marcel she plans to burn the Nazis during the film premiere, she asks him if the old filmmaking equipment from the attic still works, because she plans to make a film just for the Nazis.
Chapter Five - REVENGE OF THE GIANT FACE
Edit
In a flashback, we see Marcel recording Shosanna's special film for the Nazis. Later they are seen talking about how to develop the film.
In the original script, the scene with Marcel recording Shosanna includes a part where he asks her to clap her hands in front of the camera to sync the sound with the video. The part was either cut from the final film or never filmed.
Community content is available under
CC-BY-SA
unless otherwise noted.