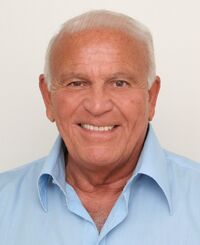 "I am standing during the cinema sequence, in the middle, between Brad Pitt and Eli Roth. I was soooo happy. I was like a little boy in his favorite toy store. I was dreaming a beautiful dream. Every single person was great. When Brad Pitt mentions my name... I could not hear anything else. I was shocked. Then when Eli Roth said, "Antonio Margheriti," another Italian director, a wonderful friend and colleague of mine, I was very happy for him too. That evening, after the wrap, I called Margheriti's son and told him."

―Enzo G. Castellari about his cameo[1]
Enzo G. Castellari (born Enzo Girolami, 29 July 1938) is an Italian film director. He became famous during the 1960s by directing several spaghetti westerns with such titles as Go Kill and Come Back (Vado... l'ammazzo e torno, 1967), One Dollar Too Many (1968), Seven Winchesters for a Massacre (Sette winchester per un massacro, 1967) and Go Kill Everybody and Come Back Alone (Ammazzali tutti e torna solo, 1968).
He also directed two very successful war films: Eagles Over London (La battaglia d'Inghilterra, 1969) and The Inglorious Bastards (Quel maledetto treno blindato, 1978). Quentin Tarantino payed an homage to the latter, by using the film title in his 2009 film, where Enzo himself had a cameo, as a German general, who attends the premiere of the fictional film within a film Stolz der Nation.
In a deleted scene, the director Enzo G. Castellari shouts "Fire!" from the place where they are sitting in the front row, as soon as the movie screen catches fire. This same line was spoken by the Italian director in his film "The Inglorious Bastards" where he also had a cameo. According to what is stated by the same Enzo G. Castellari in an interview, the false name of Aldo had to be Enzo Girolami Castellari's real name, but it was crippled Pitt making it "Gorlomi." The question on 'homage to the surname of Castellari is a bit' a mystery since the name specified in the script is just "Gorlomi" and not "Girolami."[2]
Gallery
[
]
References
[
]
External links
[
]