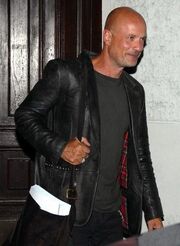 "When I read the script... I thought, Jesus! Incredible. This is the first time I read a script where someone brings to make people understand, what Nazi thinking is about."

―Christian Berkel[1]
Christian Berkel (born 28 October 1957) is a German actor.
Berkel was born in Berlin, Germany. His father was a military doctor and his mother came from a Jewish German family.
He has appeared in many German television productions and secured a major role in the Academy Award-nominated film Downfall (2004) as Doctor Ernst-Günther Schenck. He has followed this with significant roles in the Paul Verhoeven directed Dutch movie Black Book (2006), in Daniel Ragussis documentary Haber (2008) about Shimon Haber and the big budget United States movies Flightplan (2005), Valkyrie (2007), in which he portrayed Colonel Albrecht Mertz von Quirnheim and the Academy Award-nominated Inglourious Basterds (2009), where he played Eric.
Christian Berkel lives in Berlin with the actress Andrea Sawatzki, by whom he has two sons. He is also fluent in French and English.
References
Edit
External links
Edit